This week, we're taking a break from the #NaNoWriMo tips blog series. Previously, we've discussed outlining plot, designing characters, and constructing setting; next week will be the final #NaNoWriMo tips post, so if you have a suggested topic, please let me know in the comments, on Twitter, or on Facebook.
Today is a bit of a departure. I have news about other people's books, my own book, and why Carrie Fisher will always be one of my greatest storytelling inspirations—so let's dive right into it.
First of all, I'm giving away a SIGNED copy of Ninth House by Leigh Bardugo, the New York Times-bestselling author of the Grishaverse novels and WONDER WOMAN: WARBRINGER.
I've been an avid fan of Bardugo's work since her YA fantasy debut, SHADOW AND BONE, but I hadn't had the opportunity to attend one of her signings since the Grisha Trilogy concluded with RUIN AND RISING.
This past Saturday, I finally got to hug one of my biggest inspirations again in Brooklyn at her final stop on the NINTH HOUSE book tour. (And yes, I wore the kefta that I'd coerced a friend's mother into sewing back when I was 14.)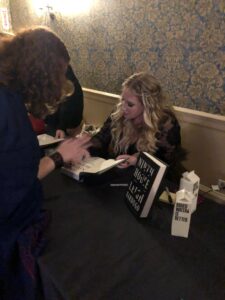 I've been tearing through NINTH HOUSE between work, revisions, and occasionally remembering to sleep. As Bardugo's adult debut, it's deliberately not YA, delving deep into themes of trauma, sexual abuse, power dynamics, privilege, and gore, not to mention the often chill-inducing dark magic. If you're comfortable with adult novels (and can stomach the occasionally graphic content,) however, I can't recommend it enough.
To enter the SIGNED Ninth House hardcover giveaway, head over to my Twitter, follow me, and retweet my pinned tweet. I want as many people to have the chance to enter as possible, so I haven't chosen an end date yet, given this blog's currently limited reach. Please pass it on so that Ninth House can find a loving new home. (U.S. only, unfortunately, since I can't afford international shipping.)
In addition, now that I'm working full-time, I'm purchasing more books than I can possibly store in my current living space.
So (depending on the order in which I finish reading them) there will be upcoming giveaways for TRISTAN STRONG PUNCHES A HOLE IN THE SKY by Kwame Mbalia, FIREBORNE by Rosaria Munda, THE GIRL WITH THE RED BALLOON by Katherine Locke, and GUMIHO: WICKED FOX by Kat Cho. Keep your eyes peeled for coming announcements!
Second, it's come to my attention that today would have been Carrie Fisher's 63rd birthday.
I've rarely been emotional about celebrity deaths, but Fisher's hit me sideways and sent me hurtling into razor-edged nostalgia. As Princess Leia—and also simply as her bold, uncompromising, real-world self—she'd empowered me as a child and continues to fuel my creativity to this day.
When Carrie Fisher passed away, my former editor at the Bucks County Courier Times' Reality section invited me back to pen a cover story on Fisher's impact. With Fisher's legacy fresh on my mind again today, it seems like an appropriate time to bring that piece back; the loss of the princess will never cease to sting, and I hope we all continue to honor the influence left in her wake.
Third and finally, I have some concrete news about my debut YA fantasy novel, THE FIRE BREATHES!
In my double-spaced Microsoft Word document, I have less than 100 pages left in this round of revisions. (I've lost count of how many rounds there have been!) Those remaining pages might take some time, as the ending is undergoing some significant changes, but once the heavy pass of revisions is done, progress will speed up significantly.
There will be additional passes for continuity, clarity, and straight-up error correction, but at the end of this revision, the story as it stands will be set. After attempting to form (let alone finish) this story since early childhood, I feel like standing on the nearest roof and screaming.
Also, at the end of this pass, I'll begin discussions with my official cover artist: Kaylen Harrington, a wildly talented artist/animator and one of my favorite friends from back at college.
Kaylen deserves all the follows, shares, commissions, and support the world can muster. Please share her work and give her the boost she deserves as an extremely skilled, fresh-out-the-gate graduate.
I can hardly wait to post the cover art for THE FIRE BREATHES once it's finalized! There's nobody else I'd rather be paying to bring my characters to visual life.
Finally, my personal favorite news—while several sections remain unprepared for outside eyes, the prologue is most definitely finished.
For the first time, I'm offering a preview of THE FIRE BREATHES right here on the blog!
If dragon/human hybrids, elemental magic, coming-of-age identity crises, best friends who won't admit they're in love, and YA fantasy are your jam, then this book is for you.
You can read the prologue of THE FIRE BREATHES right here, starting today. I'm thrilled to provide the first proper glimpse of the book of my heart. I can hardly wait to unveil it in its entirety.
Follow the blog to get updates on the next (final) #NaNoWriMo tips post, and connect with me on Twitter or Facebook to follow my daily literary (and otherwise) shenanigans. Thanks for being here—and whatever you do, keep writing! Upcoming giveaways will be announced as soon as I can finish reading.